Typically a screen has a rectangular form. This experiment breaks the rigid mould by considering any material or surface as a screen. By literally reframing the screen, new meanings and understandings of the content can manifest. What happens when four edges become ten edges? What happens when a flat surface becomes curved?
---
Precedent

In his , Mitchell Whitelaw discusses post-screen practice through examples of screens realised in different and unconventional material outcomes. He uses Daniel Rozin's mirrors to demonstrate explores how physical objects such as wood and dolls can move in such a way to emulate a screen or mirror.

---
Components
Content

In a fashion, I projected my face onto different surfaces in this experiment. In doing so, this choice was criticised for creating conflicting intentions and meanings. Because humans are accustomed to seeking out the information on the screen, the content—my face—will naturally take the main focus. As my project intends to bring highlight the screen, my face was too distracting. However, for these material experiments, I became a reliable asset and reference for myself. For the exhibition and interactive component, participants will be able to select a photo from their phone gallery.


Black surface

Projectors and screens do not display the colour black. This is because it uses RGB colour spaces. In a screen, each pixel consists of red, green and blue phosphors that sit behind a tinted plastic. When no lights are on, the pixel appears black (read more here). It was necessary for the experiments involving removing parts of the screen that the background could absorb as much light as possible to appear pitch black. Black cardboard reflected too much light. Perspex wasn't great either. I found that black felt worked the best. Generally, whiter surfaces project a better image than darker surfaces. Any light areas in the video/image will appear starker than the more shaded areas.

---
Results

3D Surfaces

Projecting my face on my face
Manipulating the surface

In one of the videos, I filmed myself eating obnoxiously: chewing with my mouth open and talking while eating. These results stemmed from a desire to mask parts of the screen to remove the undesirable.

Unlike plastics and metal, paper is easily manipulable. Using paint, tape and ripping actions, white paper becomes a dynamic screen which can enhance, subvert or create new ideas about the content. The affordances of paper fuelled further experimentation.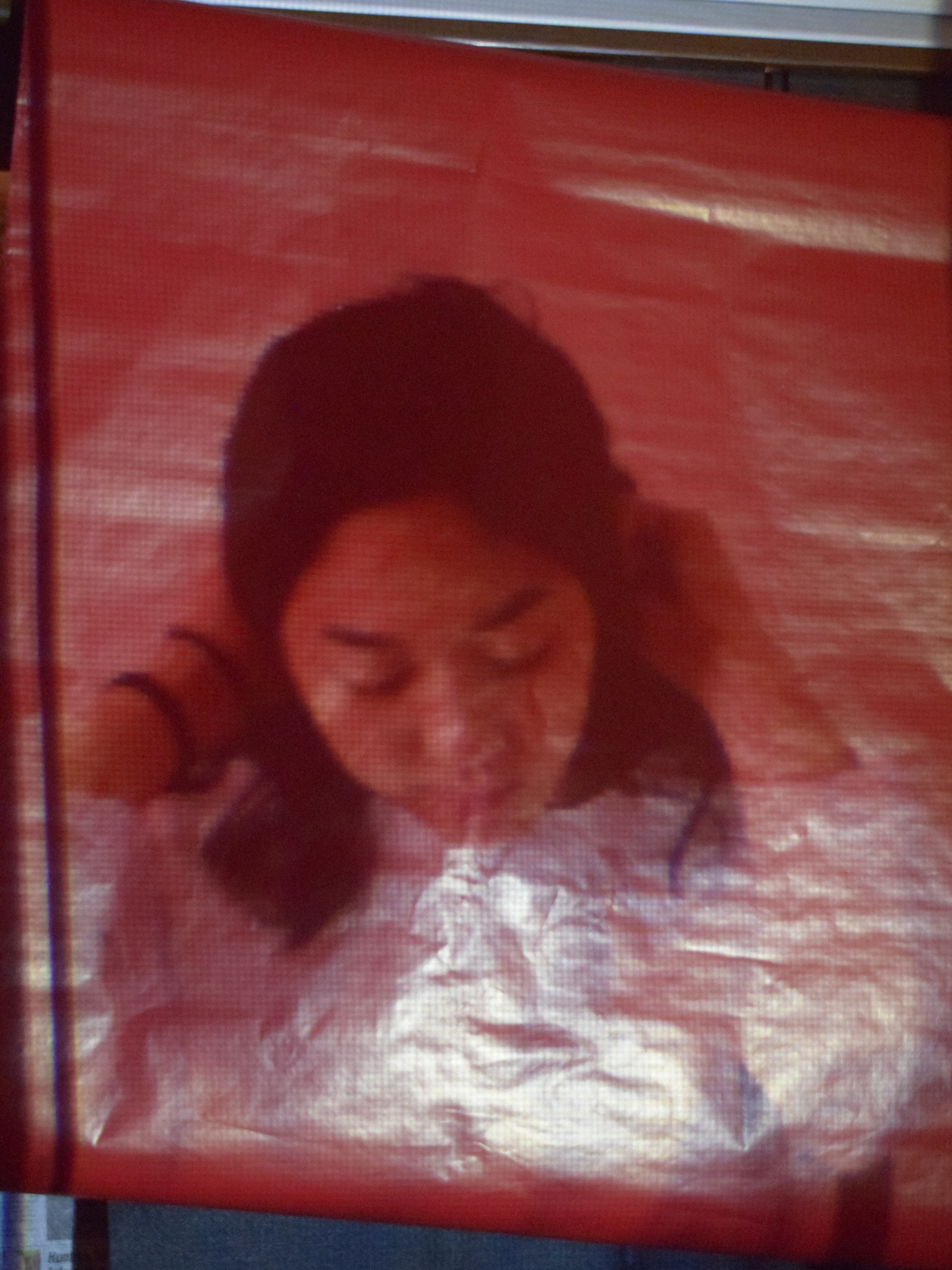 ---
Try at home

To recreate this experiment, you will need a projector and a projection surface (roll of paper, found objects, screen). Select your content to upload. Project and start playing!


Some prompts:

overprojecting can lead to interesting results. explores projecting colour over colour.

project the same image/footage onto multiple different surfaces. How does the tone and meaning change?

Swiss artist is a great reference for experimental video art. She uses scale to dynamic ways to enhance the messages of her videos which can inspire your own explorations.


Tags: defamiliarising, reconfiguring, questioning, performances, body, projection, reset, popular